"Quality is remembered long after the price is forgotten."
 - Aldo Gucci, chairman of Gucci Shops, Inc.
When you're looking to purchase salon equipment, there are many questions you should be able to ask your equipment provider. One of them is where exactly their American-made equipment is manufactured and to see the factory.
When working with Kaemark, you are able to visit our Giddings, TX showroom and tour the manufacturing side of our facilities, as well as, meet the artisans who build your salon's equipment.
For those not able to visit the facilities or are looking for a little bit more information on Kaemark's process, we've put together a short video and explanation of what happens after you place your equipment order.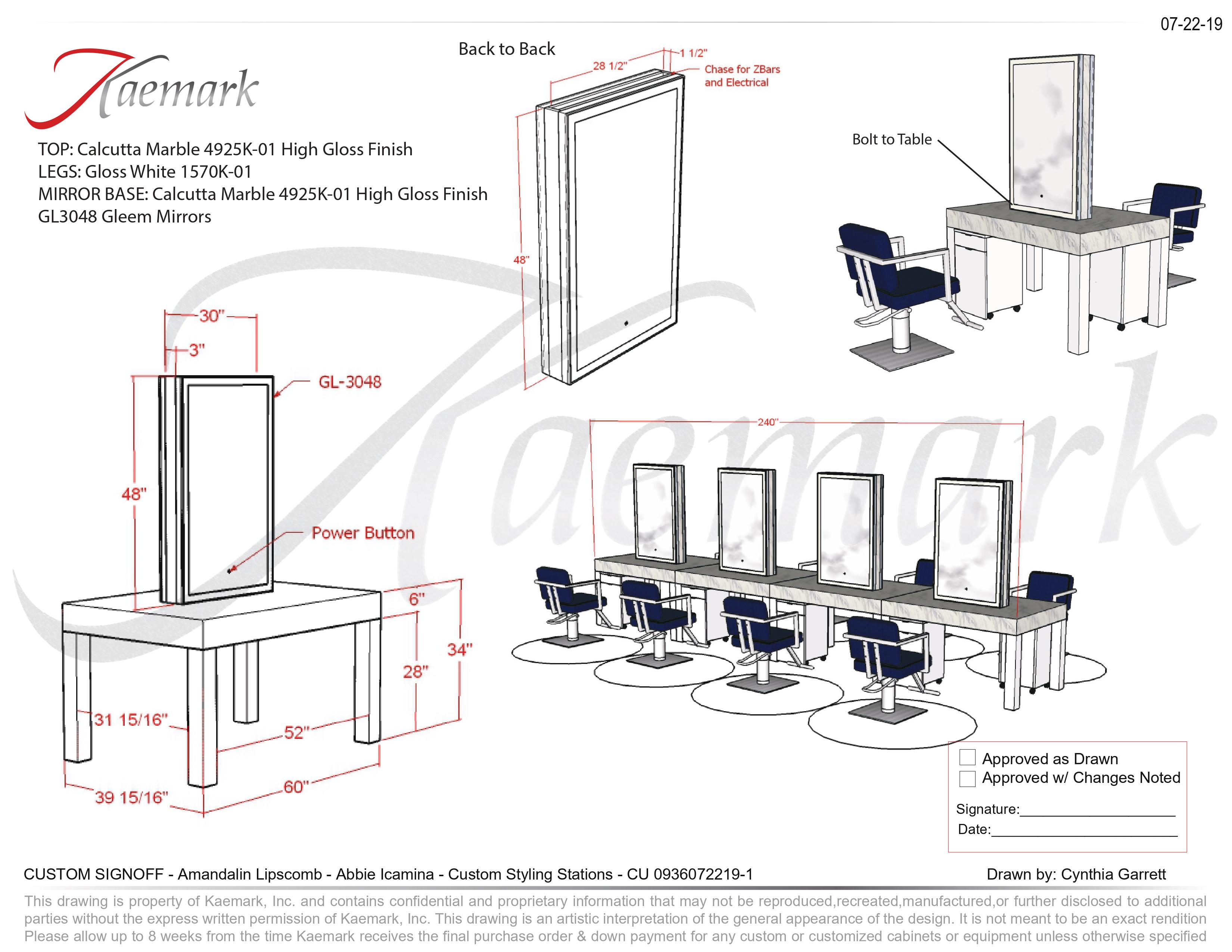 To ensure that you're ordering the custom product you envisioned, our design team creates Custom Sign-Offs. These custom design sketches include a rendered sketch, dimensions, and explanation of the custom product you're considering purchasing. Your designs are not programmed for our computerized machinery until you approve the signoff and pay your deposit.
Between you, your Equipment Pro, and your Kaemark designer, we will work together to create ergonomically functional and beautiful furniture!
Once your order is scheduled, the raw materials are brought in and are prepared for the various processes we put them through in the factory. 
For many of the cabinetry items, the first stop is the glue and heating press. The laminates are adhered to the wood with glue and then heat pressed at 1000 degrees. 
Next, the wood is taken to the Nesting Machines, where the wood is cut to exact pieces to minimize waste and make sure your end product is perfectly sized. After this, the pieces of wood are taken to the CNC Machine, where there are holes drilled for dows, pieces that help create a stronger connection point between the different pieces of wood that make up your furniture. 
Edgebanding is next: here laminates are glued and heat-pressed to the edges of each piece of wood. Next comes another validation process to make sure that all pieces are accounted for for an individual piece of your order.
The dow machine adds the actual dows to the wood pieces before our assembly team puts the furniture together to make sure every part is accounted for before taking the furniture apart. 
Quality control gives the final check and makes any final touch-ups before your pieces are sent to shipping. 
Our American-Made styling chairs are assembled in our seating department. Many of our seating department employees have been making our styling chairs in other seating for more than 20 years.
Once your equipment is built, it's time to prepare your products for shipping! Kaemark's box machine creates boxes that are perfectly sized for your equipment and are safely packed for shipment. 
In addition, Kaemark makes its own shipping pallets to control all parts of the packing process. By taking on this task, we are able to build crates specific to the size of the custom product you design and built. This allows us to save room on the shipping trucks, which in turn will save you money on shipping.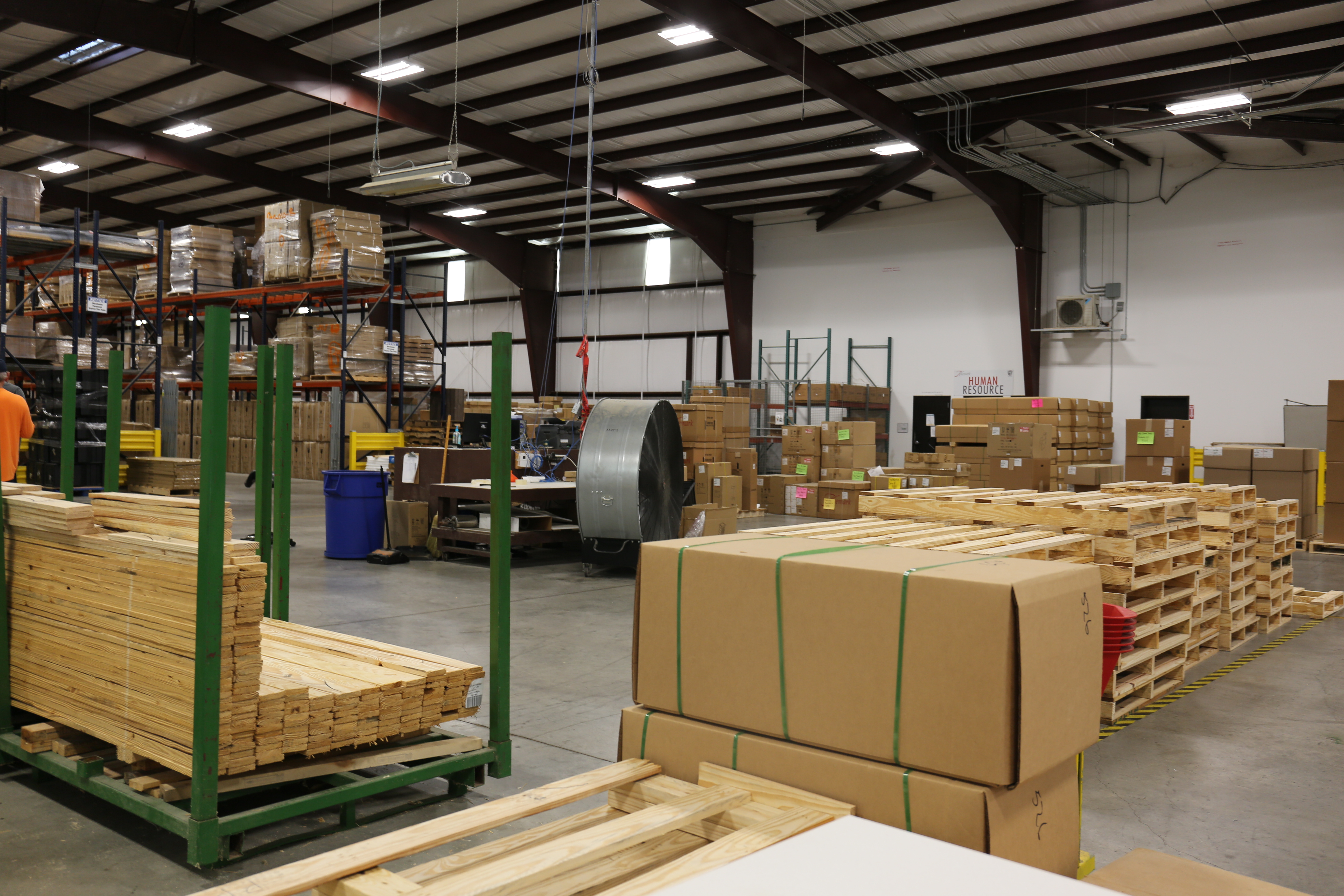 Your orders are then shipped via a competitively priced carrier to be delivered to you. 
Once its time for your order to go, each item is checked initially by machine and by hand to make sure each part is ready for shipment. Once the shipping truck arrives, the items are checked one last time while being loaded. Your shipping team also films the loading process to make sure there is record of each item that is loaded. 
Your equipment pro is with you every step of the process to make sure that you are satisfied with your order. 
We hope this has helped you with your search for commercial-quality salon equipment for your salon or school.  For more information about Kaemark's options, click below to schedule your in-person or virtual showroom appointment.