Furniture and Equipment for
Cosmetology Schools
---
In recent years, trade schools have grown in popularity as students desire more hands-on experience—and cosmetology schools are among the leaders in secondary education. Kaemark is passionate about providing students with quality equipment to further their education. Students that attend a school with Kaemark products will learn skills on the same quality equipment found in professional salons and barber shops after they graduate.
Kaemark is a leading provider of millwork, casework and equipment for cosmetology and barber schools across the United States. We offer equipment for public trade schools, private trade schools, and junior colleges. As members of multiple co-operatives, we have connections with several suppliers to make the ordering process easier for public schools.
Kaemark is your all-in-one solution for cosmetology school equipment. We're here for you every step of the way: design, manufacturing and engineering, consolidation, logistics, installation, and preventative maintenance. Let Kaemark be your trusted partner to further secondary education.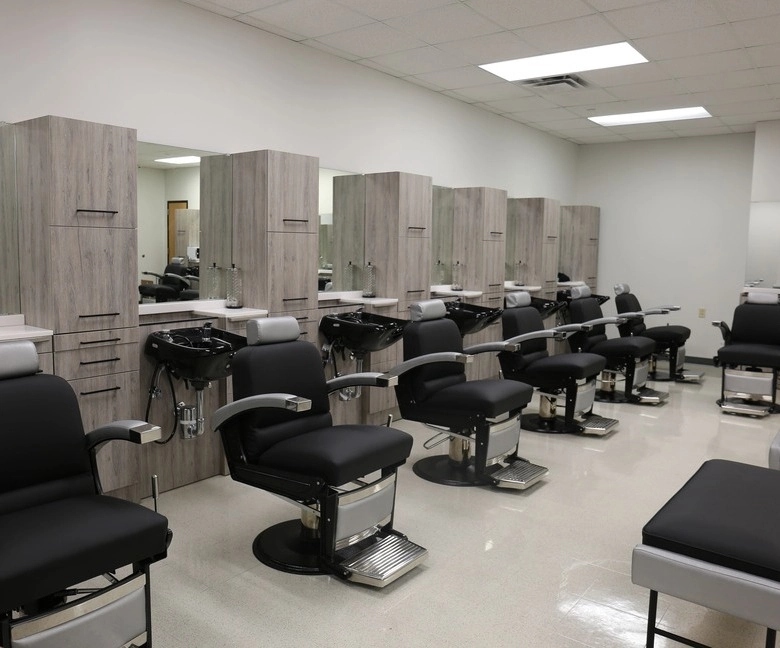 Ask us for our Cosmetology School Catalog!
Types of Cosmetology School Cabinets, Fixtures and Equipment
---
Purchase your Kaemark Equipment Through Registered Purchasing Co‑Operatives and Suppliers.
---
The Kaemark brand is recognized nationally by education purchasing Co-Operatives and Suppliers. We are currently registered and approved with the below list of Co-Operatives and Suppliers, but our services are growing rapidly. If you don't see your preferred purchasing Co-Operative or Supplier, contact Kylie at [email protected] to register your preferred purchasing Co-Operative or Supplier today!
Top of the Line Materials
---
With our USA-based manufacturing, Kaemark controls every aspect of construction and its material, rather than using outsourced or imported materials.
---
Industrial Grade Engineered Wood
Fir industrial grade engineered wood reduces splitting and chipping when handling for a stronger more reliable core material.
7-ply 5/8"
We use 7-ply 5/8" rather than 5-ply ½" to ensure the veneer seat bucket is 60% stronger, and the t-nuts that anchor the back and arms do not rip out.
Thicker Foam
By using a thicker foam, Kaemark reduced the likeliness of "bottoming out" by using 2.5"-3.5" foam seat thickness compared to 1.5"-2".
Metal "L" Bracket
Kaemark's metal "L" brackets reduce the likeliness of the footrest ripping out of the chair which allows for pressure to be distributed evenly.
PVC Color Core Edge Banding
With the use of PVC color core edge banding, our products do not have unsightly seams and minimize chipping due to wear and tear.
Water Resistant Engineered Wood
With the use of water-resistant engineered wood around shampoo bowls, sinks, and other areas that could get wet during use, Kaemark has limited the likelihood of swelling due to water.
Aeon Laminate
With the use of Wilson Art scratch and scuff-resistant Aeon Laminate, our surfaces are dramatically more durable than competitive laminates. This allows our equipment surfaces to keep their good looks longer. This high-pressure laminate comprises layers of resin-treated papers, processed under high heat and pressure to create a strong, flexible decorative surface.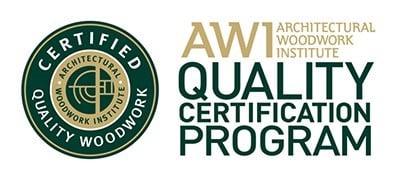 Architectural Woodwork Institute Certification
---
Kaemark is committed to delivering superior products and quality assurance through our certification with the Architectural Woodwork Institute.
About AWI: AWI's Quality Certification Program gives a stamp of approval to professionals in the woodworking industry, ensuring their skills and abilities to clients. It's that edge you need to validate your work as an architect, specifier, general contractor or architectural woodworker. Clients rely on QCP professionals to deliver better design options and quality projects, relying on industry-wide knowledge and expertise.