Design Your Salon With the Industry's Leading American-Made Manufacturer
Kaemark has built over 125,000 locations across three continents
At Kaemark we are constantly innovating our products and services so you can have peace of mind that while you're providing an excellent experience for your guests, your equipment investment is protected knowing you purchased through Kaemark.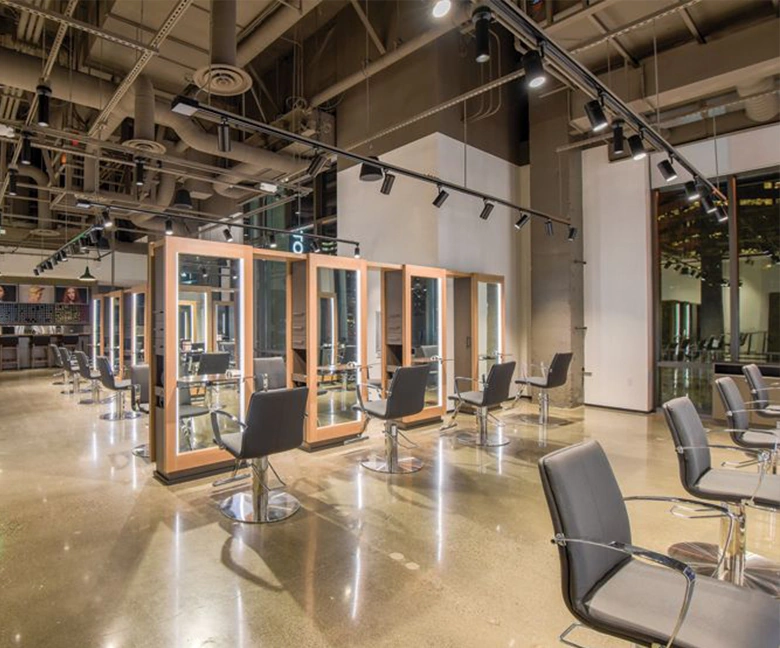 Kaemark is the largest American-made Manufacturer of Salon Furniture and Equipment in North America
---
Kaemark is the largest manufacturer of American-made salon and beauty equipment in the United States. For over 50 years, we've gained specialized knowledge and developed experience in the beauty industry. From equipment and furniture to the layout and functionality of a salon, you'll have peace of mind that your partnership with Kaemark will be stress-free. Let Kaemark be your one point of contact for everything from kwikship salon equipment to that custom piece you've been envisioning. We'll design, build, source, deliver and install your salon equipment.
Kitchen drawers are opened about 900 times a year, but the #1 drawer in a salon is opened around 11,000 times a year. That means you need a product that not only looks great, but is built to last. At Kaemark we are constantly innovating our products and services so you can have peace of mind that while you're providing an excellent experience for your guests, your equipment investment is protected knowing you purchased through Kaemark. Work with our ever-growing expert Design Team to develop the flow and functionality of your space.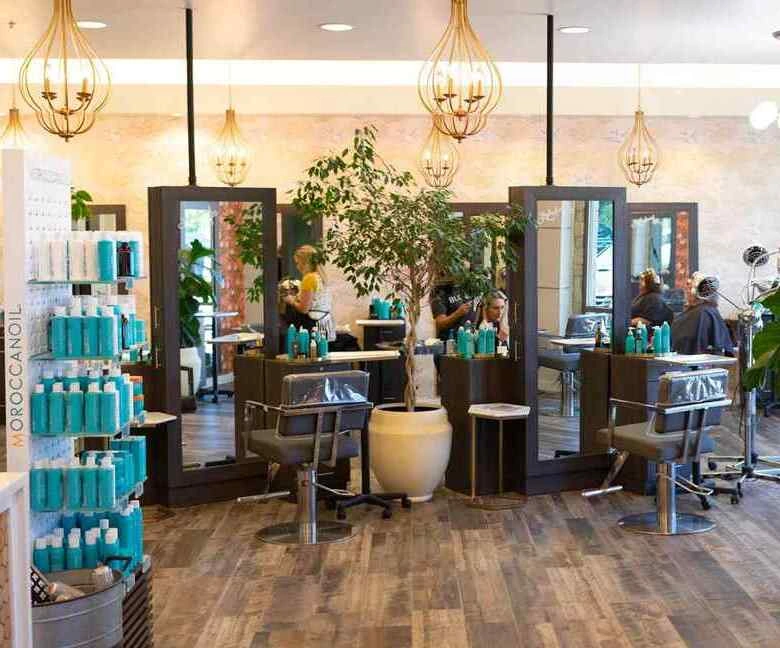 Ask us for our Product Guide
Let us design and build your Salon
---
Award Winning Design - Gene Jaurez Case Study
At Kaemark we are proud of the work we've completed and enjoy each partnership with our clients..
The 46-year old Gene Juarez Salon brand needed a fresh update to attract a younger clientele without repelling the current one. That's when Kaemark stepped in and worked with GJ Construction Manager Susie Burrows to realize the vision. Kaemark designed individually lit mirrors, customized for the salon according to their needs. The fact that the mirrors provided their own light was crucial to the salon as they were limited on energy usage in the area. The salon chairs were custom designed and built for GJ's unique hair cutting approach.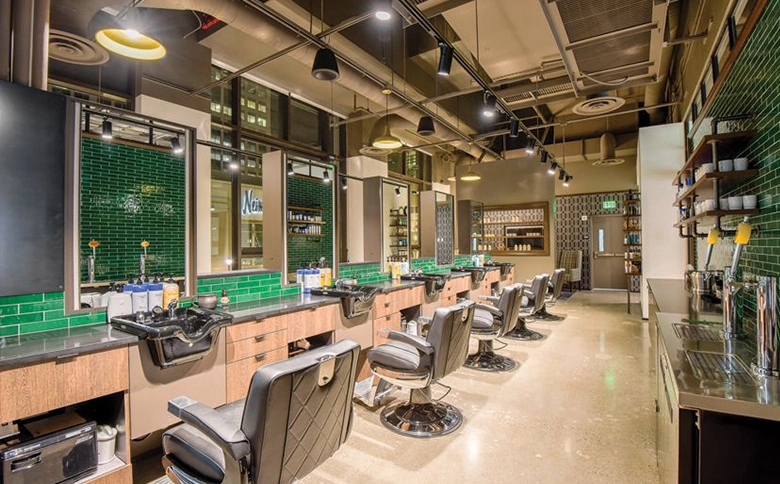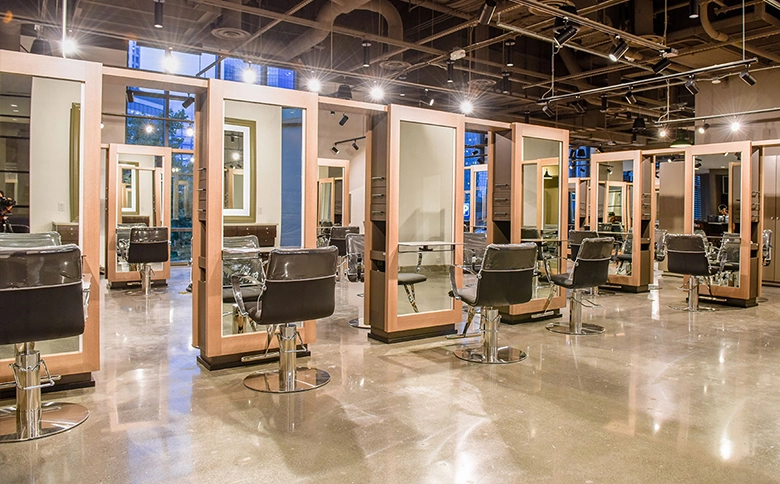 ---
Alongside the styling area is a color bar featuring jewel toned chairs for clients to watch the mixing process. Separate from the styling area is the Shampoo Oasis that also serves as a decompression zone. It features a raised floor, strategic sectioning and low lighting. The salon also includes an industrial style entrance and boutique-style lobby large enough to accommodate the 1,700 weekly clients.
Despite challenges with city officials and having one location closed, the buildout was completed in 6 months. The company spent $3.7 million to create a huge open concept idea while creating an intimate, personalized feel. Our team at Kaemark enjoyed the creative process and doing everything possible to meet the needs of our client.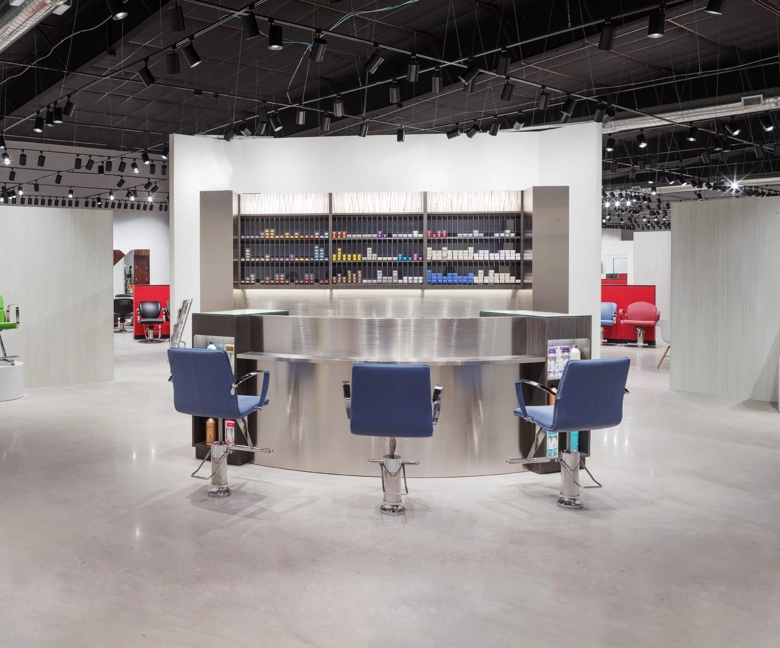 Fly & Buy with Kaemark
---
We understand sometimes it may be difficult to plan out a whole trip to visit our Central Texas salon furniture showroom. In order to show our appreciation for your journey to see us, hang on to your airline ticket and we'll add a credit to your purchase.
We're only a short one hour drive from the Austin-Bergstrom International Airport. When you've had a great time visiting the showroom, have some fun in Downtown Austin at 6th street, Lake Travis, Zilker Park or have a real taste of Texas at Austin's famous barbecue restaurant Franklin's.
We can't wait to see you soon!
Top of the Line Materials
---
With our USA-based manufacturing, Kaemark controls every aspect of construction and its material, rather than using outsourced or imported materials.
---
Industrial Grade Engineered Wood
Fir industrial grade engineered wood reduces splitting and chipping when handling for a stronger more reliable core material.
7-ply 5/8"
We use 7-ply 5/8" rather than 5-ply ½" to ensure the veneer seat bucket is 60% stronger, and the t-nuts that anchor the back and arms do not rip out.
Thicker Foam
By using a thicker foam, Kaemark reduced the likeliness of "bottoming out" by using 2.5"-3.5" foam seat thickness compared to 1.5"-2".
Metal "L" Bracket
Kaemark's metal "L" brackets reduce the likeliness of the footrest ripping out of the chair which allows for pressure to be distributed evenly.
PVC Color Core Edge Banding
With the use of PVC color core edge banding, our products do not have unsightly seams and minimize chipping due to wear and tear.
Water Resistant Engineered Wood
With the use of water-resistant engineered wood around shampoo bowls, sinks, and other areas that could get wet during use, Kaemark has limited the likelihood of swelling due to water.
Aeon Laminate
With the use of Wilson Art scratch and scuff-resistant Aeon Laminate, our surfaces are dramatically more durable than competitive laminates. This allows our equipment surfaces to keep their good looks longer. This high-pressure laminate comprises layers of resin-treated papers, processed under high heat and pressure to create a strong, flexible decorative surface.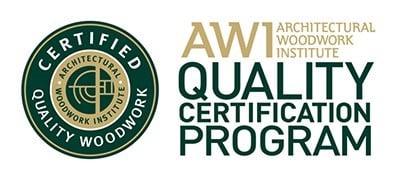 Architectural Woodwork Institute Certification
---
Kaemark is committed to delivering superior products and quality assurance through our certification with the Architectural Woodwork Institute.
About AWI: AWI's Quality Certification Program gives a stamp of approval to professionals in the woodworking industry, ensuring their skills and abilities to clients. It's that edge you need to validate your work as an architect, specifier, general contractor or architectural woodworker. Clients rely on QCP professionals to deliver better design options and quality projects, relying on industry-wide knowledge and expertise.