The Kaemark Solution
First, our Design Team will work with you to develop the flow and functionality of your space. Using the latest design technology, we'll engineer innovative, in-house solutions for your business layout—developing a product tailored for your needs. Our specialized, top-of-the-line products are not only built to last, but to keep up with industry trends and changes.
Once we've created everything you need, our Logistics team will transport your products to you safely with our nationwide carriers. Next, our Installation team will do all the dirty work for you and plug everything into your space—making your dream a reality. Finally, we'll test your products and make sure they work properly in your space.
We're here to save you time and money. Make Kaemark your trusted equipment and furnishings partner today!
Whether you're starting a business from scratch or expanding a franchise, building your own space can be daunting. For that reason, we've streamlined the process for you, making it easy to bring your dream space to life. At Kaemark, we're not just another middle man or product distributor—we create custom designs, crafted with your business in mind.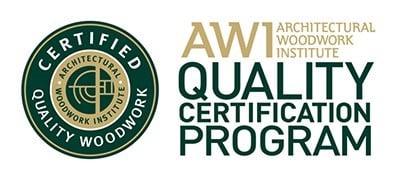 Architectural Woodwork Institute Certification
---
Kaemark is committed to delivering superior products and quality assurance through our certification with the Architectural Woodwork Institute.
About AWI: AWI's Quality Certification Program gives a stamp of approval to professionals in the woodworking industry, ensuring their skills and abilities to clients. It's that edge you need to validate your work as an architect, specifier, general contractor or architectural woodworker. Clients rely on QCP professionals to deliver better design options and quality projects, relying on industry-wide knowledge and expertise.