Commercial Millwork to Transform Your Business
---
Kaemark will design, manufacture and install your product from start to finish. Our Design Team will work with your vision, analyze the space, and design products that enhance your business. Kaemark's engineers complete the process by programming your designs into our industry-leading computerized millwork machinery. With over 50 years of building experience, we understand the construction timeline. Our in-house installation team works efficiently with contractors to identify obstacles before they happen.
You deserve a product that will last and improve your business for years to come. When it comes to our commercial millwork, we create custom wood pieces that are not only stunning but long-lasting and sturdy. We've selected the best quality materials, including our core material – engineered wood that comes from American forests and is eco-friendly, having been Responsible Forestry certified by SCS Global. With our Architectural Woodwork Institute Certification, we're committed to delivering superior products and quality assurance.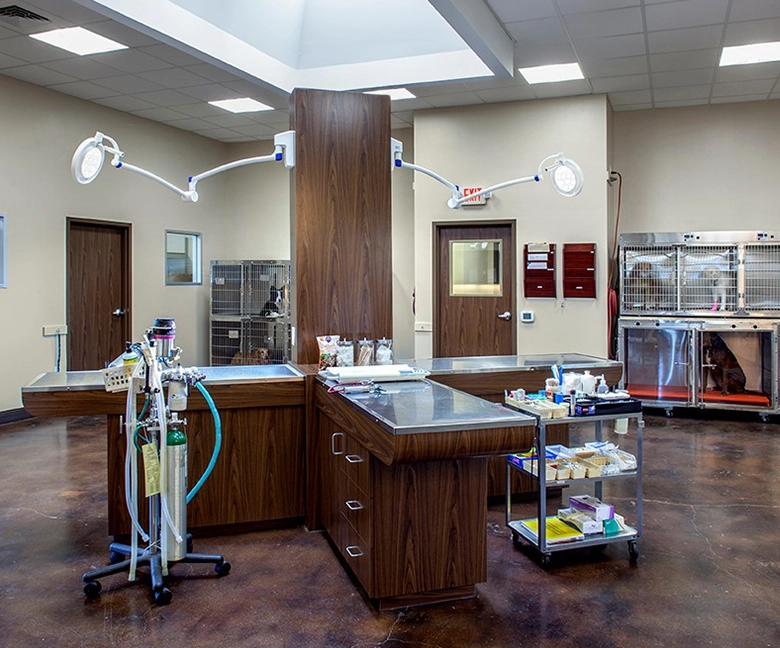 Professional Millwork for All Industries
Multi-Unit Franchises

Salon & Barber

Veterinary Clinic

CTE & Vocational Programs

Spa & Massage

Healthcare

Office & Tenant Buildout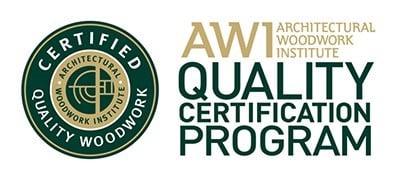 Architectural Woodwork Institute Certification
---
Kaemark is committed to delivering superior products and quality assurance through our certification with the Architectural Woodwork Institute.
About AWI: AWI's Quality Certification Program gives a stamp of approval to professionals in the woodworking industry, ensuring their skills and abilities to clients. It's that edge you need to validate your work as an architect, specifier, general contractor or architectural woodworker. Clients rely on QCP professionals to deliver better design options and quality projects, relying on industry-wide knowledge and expertise.
Quality Starts with Raw Materials
---
Industrial Grade Wood

Fir industrial grade wood reduces splitting and chipping when handling for a stronger more reliable core material.

USA Based Manufacturing

Kaemark controls every aspect of construction and its material vs outsourced or imported products.

Type Two Water Based Glue

UL Listed type two water based glue has low VOC content for purer air.

Thermo Fused Laminate

Thermo Fused Laminate panels contains similar quality finish and scratch resistance as laminate to pass along the best value where possible without compromising quality.

UPC Listed Bowls

UPC Listed porcelain bowls are assured to pass local codes.

Porcelain Bowls

Porcelain bowls are less likely to be damaged by the chemicals used to color hair.
---
---
---
Millwork Differentiation
---
Soft Close Hinge

Our soft close hinges avoid marks from forming on frames due to slammed doors, and prevents cracks and dents from forming on the doors themselves. The soft close mechanism also reduces friction against your hinges, which extends their life and the amount of time before you have to shell out to have them replaced.

PVC Color Core Edge Banding

With the use of PVC color core edge banding, our products do not have unsightly seams and minimizes chipping due to wear and tear.

Marine Grade Plywood

Help prevent swelling with the use of Marine grade plywood around shampoo bowls, sinks and other areas that could get wet during use.

Aeon Laminate

With the use of Wilson Art scratch and scuff resistant Aeon Laminate our surfaces are dramatically more durable than competitive laminates. This allows our equipment surfaces to keep its good looks longer. This high-pressure laminate comprises layers of resin-treated papers, processed under high heat and pressure to create a strong, flexible decorative surface.

PVC Coated Drawers

On average, a salon drawer is opened 14x more than a kitchen drawer. We use durable PVC coated drawers which stand up to the salon usage and are also easy to clean.

100lbs Ball Bearing Slides

100lb full extend ball bearing slides can withstand the 1000's of times a drawer is opened and closed in a year.
---
---
---
Seating Differentiation
---
7-ply 5/8"

7-ply 5/8" vs 5-ply ½" veneer seat bucket is 60% stronger and t-nuts that anchor back and arms do not rip out.

Thicker Foam

Reduce likeliness of "bottoming out" by using 2.5"-3.5" foam seat thickness compared to 1.5"-2".

Metal "L" Bracket

Reduced likeliness of our footrest ripping out of the chair by using a metal "L" bracket which allows for pressure to be distributed evenly.

29-32oz Expanded Vinyl

Vinyl's life expectancy is longer with the use of 29-32 oz expanded vinyl's vs. 21-29 oz.

Continuous Stapling

With our continuous stapling, we relieve the stress on the vinyl which eliminates puckering of the vinyl.

Reclining Backrest

By using the solid casting, textured reclining rod and safety stop, we ensured reclining the back rest does not exceed 60 degrees

Powder Coat Base

The powder coated base on the underneath side of the hydraulic base reduces chair rust and unsightly marks on the floor.

High Density Foam

High density foam that will not compress over time.

Vented Seat and Backrest

Vented seat and backrest to help prevent moisture build-up which can lead to odors and bacteria growth caused by mold and mildew.
---
---
---