"Santa Claus is anyone who loves another and seeks to make them happy; who gives himself by thought or word or deed in every gift that he bestows." – Edwin Osgood Grover, Philanthropist and Publisher
---
'Tis The Season To Be Jolly
It's finally that time of the year!
Setting the mood in your salon can make all the difference in someone's holiday cheer.  Decorating your salon is not just for your clients, but should be fun for you and your salon staff!
We've listed out our top tips for decorating this holiday season!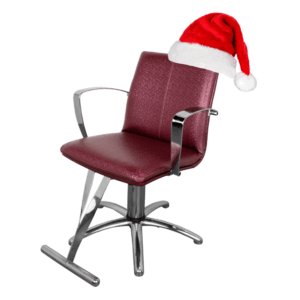 Never underestimate the power of an eye-catching holiday-themed window display! By creating a fun window display, you set the tone for your client's holiday experience in your salon and attack attention from passersby!
Pro Tip: Get creative with your design by incorporating your merchandise into the display: a Christmas tree made from recycled or used product bottles or Santa's sled filled with wrapped or unwrapped products.
The reception area of your salon is the perfect place for larger holiday decorations. Oversized ornaments or silly Santa statues are perfect for these areas.
Pro Tip: Add ribbon to your reception desk to give the appearance of a wrapped present!

3. Mirror Mirror on the Wall
Your clients spend most of their time in your salon looking in the mirror. Adding garland or sparkling lights around the mirror of your styling area is the perfect way to add a little sparkle and shine.
Pro Tip: Be sure your lights match your theme: warm lights for a red and gold theme, blue and white lights match a frosty and/or snowflake filled theme.
Keep your color theme consistent throughout your salon. Choosing a theme that also matches the aesthetic of your salon can help pull your look all together.  Choose a festive theme, whether it's rustic Christmas, holiday chic or traditional decor, and stick to it!
The holiday season should inspire nice, warm feelings. Use the time decorating your salon to truly relax and enjoy the process!  In these stressful times, it is extremely difficult to find fun and and enjoyment, and you should take advantage of every change you get!
Pro Tip: Make it an event!
To stay safe and socially distanced, schedule a virtual open house with an open invitation to your clients.