"Success is where preparation and opportunity meet." – Bobby Unser, 3-time Indy 500 Winner
---
You've picked out the perfect space and are ready to start furnishing your dream salon.
Here are 5 questions to ask when choosing furniture for your new salon.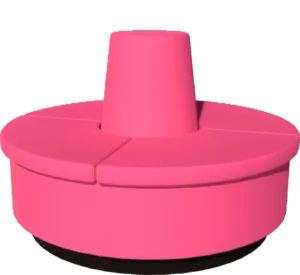 1. What kind of reception area would you like?
The reception area is what first greets all your guests. A large multi-service salon may need a larger reception area to differentiate check-in for different services. A desk large enough to seat two or more receptionists is perfect for this sort of salon. For a salon limited on space, a simple pedestal style desk is enough to get the job done. In terms of seating, comfortable seating areas will not only make a world of difference to your clients but their (sometimes unwilling) companions. Don't forget we live in a time with social distancing, so oversized seating has become very popular!

2. What are your salon's needs?
Is your salon strictly for hair cuts, color and styling or will you offer other services like eyebrow waxing and nails?
For salons offering a variety of services, furniture that is multi-purpose will help maximize the space used and get the best bang for your buck. For instance our All-Purpose styling chairs are super popular for stylists that offer both hair services and waxing. Your client never leaves your chair and you can perform both services.
3. What is your color scheme?
No matter what your color or design scheme is, you are going to want to look at all the options available. A single Kaemark American-Made styling chair has more than 1000 style different configurations alone, meaning that you will find something that suits your needs perfectly.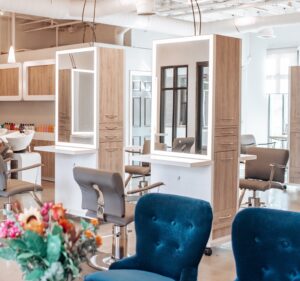 4. How much storage space do you need?
Storage space is one of the most important features of any salon. Maximizing your space can make the difference between your salon feeling cozy and comfortable or cluttered and disorganized.
Whether you opt for styling stations with large storage space and wire hiding capabilities like several of our Gleem line of stations, or for a minimalist tower station, consider your everyday products and services, and make sure your station adheres to your needs.
5. Do you need retail space?
Selling retail products is a great way for salons to provide a full package to customers. For salons that require more retail space, a large retail display will provide space for any and all products.
Smaller salons may choose a smaller display that can fit into corners like the Ellipse American-Made Retail Display to help maximize your space.