We've designed more franchise salons than any other American-made equipment manufacturer.
---
When you partner with Kaemark, you're getting more than salon equipment — you're getting a legacy of knowledge and expertise to guide you through the entire process. Kaemark has designed and manufactured equipment for over 125,000 locations across three continents. As the leading salon equipment and furniture manufacturer in North America, our customers have peace of mind knowing they work with the best in the industry. At Kaemark, we know the beauty industry and understand how the equipment works — inside and out.
Kaemark has designed the millwork and equipment for the beauty industries leading franchise salons. We understand that your franchisee's bottom line is crucial. We work with your franchise corporate leaders to design, develop, and source the essential products to make your beauty salon franchise beautiful, economical for the franchisee's investment, and effective for the end user, your stylists.
Once the corporate leadership approves your overall millwork and equipment design, our account managers allow for a simple ordering process that each franchisee can appreciate. Kaemark's account managers work closely with the franchisee during the ordering, manufacturing, logistics, and installation processes. Rest assured, when you partner with Kaemark for your franchisee salon equipment, you work with the industry's most knowledgeable equipment provider.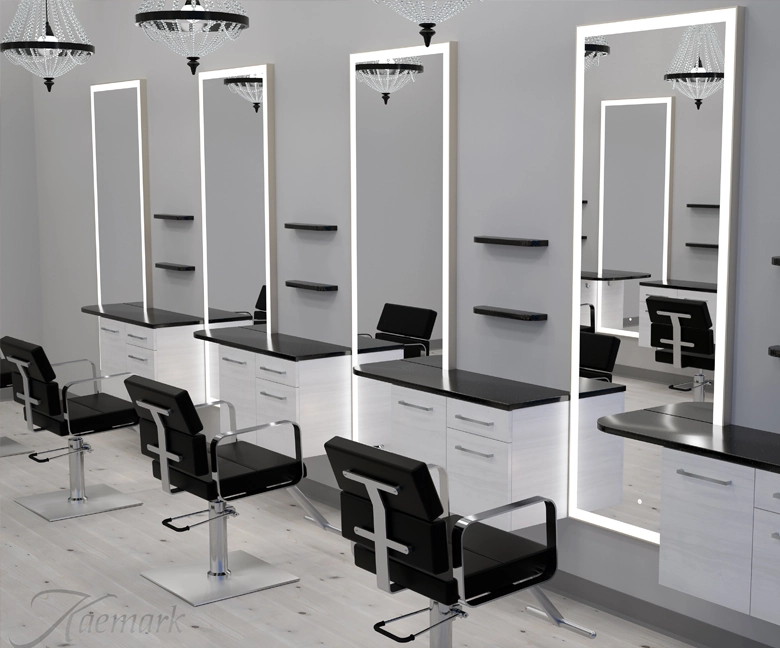 Types of Salon Cabinets, Salon Fixtures, and Salon Equipment
---
Salon Franchise Styling Stations
Salon Franchise Wet Stations
Salon Franchise Portable Stations
Salon Franchise Trolleys and Color Trays
Salon Franchise Mirrors and Mirror Panels
Salon Franchise Styling Chairs
Salon Franchise All-Purpose Styling Chairs
Salon Franchise Shampoo Chairs
Salon Franchise Dryer Chairs
Salon Franchise Shampoo Shuttles
Salon Franchise Reception Desks
Salon Franchise Shampoo Cabinets
Salon Franchise Shampoo Back Bar
Salon Franchise Retail Units
Salon Franchise Reception Seating
Salon Franchise Breakroom Equipment
Salon Franchise Color Bars and Dispensary
Salon Franchise Salon Storage
Salon Franchise Reception Seating
Salon Franchise Barber Stations
Salon Franchise Barber Chairs
Salon Franchise Anti-fatigue Mats
Salon Franchise Dryers + Processors
What Makes Our Franchise Salons Products Different
---
You deserve a product that will last and improve your business for years to come. Our products are designed and crafted from the ground-up to ensure we only delivery the highest quality products.
---
AWI Certification
With our Architectural Woodwork Institute Certification, we're committed to delivering superior products and quality assurance.
Eco-Certified Engineered Wood
We seek out the best materials. Our engineered wood and laminate are eco-friendly, having been Responsible Forestry Certified by SCS Global.
Water Resistant Engineered Wood
For when things get messy, Kaemark offers water-resistant engineered wood to protect areas around sinks and bowls from swelling due to moisture.
Sanitary Millwork Standards
Kaemark's Millwork creates an impervious plastic laminate assembly that is easily cleaned and disinfected. This marine grade engineered wood (or equivalent material) with a resistant seal meets medical compliance standards.
What Makes Kaemark Different
---
At Kaemark, we don't sacrifice quality for convenience, we source the best quality materials to craft durable, long lasting and scalable products.
---
Commercial-Grade Laminate
Thermo fused laminate: Our Thermo fused laminate is created by soaking decor paper with resin and allowing it to partially dry, and then fused with heat and pressure to a backing material. Thermo fused laminate is a durable option that offers heat, moisture, stain, and wear resistance.
AEON™ Scratch and Scuff-Resistant Laminate: AEON™ enhanced performance technology creates a surface that is extremely durable and resistant to all types of on-the-job wear and tear. Ranking at the top in the laminate industry, this product delivers best-in-class performance and durability.

PVC Edge Banding
We use PVC edge banding to seal raw edges in several colors, textures and woodgrains. This polyvinyl chloride banding material is made from thermoplastic resin and is known to be both flexible and durable.
100lb Ball Bearings Slides
Kaemark designs and manufactures furnishings that are sturdy and reliable for years to come. Equip your drawers to be long-lasting and hold their weight with our 100lb ball bearing slides.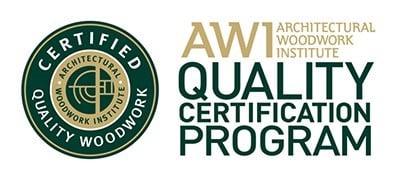 Architectural Woodwork Institute Certification
---
Kaemark is committed to delivering superior products and quality assurance through our certification with the Architectural Woodwork Institute.
About AWI: AWI's Quality Certification Program gives a stamp of approval to professionals in the woodworking industry, ensuring their skills and abilities to clients. It's that edge you need to validate your work as an architect, specifier, general contractor or architectural woodworker. Clients rely on QCP professionals to deliver better design options and quality projects, relying on industry-wide knowledge and expertise.